---
---
Peter Boykin Needs Your Help To #DemandFreeSpeech & #StopTheBias Will You Help This Patriot?
The way you make me feel "jazz"
You Say...
William Barr speaks out And We Love What He's Saying, Do You?
Sign the Petition #DemandFreeSpeech #StopTheBias
23 Democrats Running For President : See How Many jobs Trump Created! Who Else Should run?
Alabama Outlaws Abortions, Do You Feel That's Best?
Big Tech VS Free Speech 💪 The end of Section 230 may be the key!
Gay Trump Supporter Peter Boykin Banned From Twitter
Do You feel Safer Now That Liberal Women Are On A #SexStrike?
Gay Trump Supporter Peter Boykin Banned From Twitter War Room With Owen Shroyer
Our @Potus @RealDonaldTrump Stands Up Against China, Who Do You Think Will Blink First?
Well known Gay Republican Peter Boykin has been Banned From Twitter
Peter Boykin has been banned from Twitter
Follow @PeterBoykin on Social Media
---
---
---
---
FILE PHOTO: A security officer stands guard outside St. Anthony's Shrine, days after a string of suicide bomb attacks on churches and luxury hotels across the island on Easter Sunday, in Colombo, Sri Lanka April 26, 2019. REUTERS/Athit Perawongmetha/File Photo
May 3, 2019
By Tom Lasseter
COLOMBO (Reuters) – The island nations of New Zealand and Sri Lanka are separated by some 6,600 miles (10,600 km) of ocean. But in just over a month's time, each has seen mass killings that generated similar headlines.
In Christchurch, New Zealand, a man with his finger on the trigger of an AR-15 assault rifle stormed into mosques during Friday prayers on March 15. By the end of it, 51 people who had come to worship in two houses of God were dead.
In Colombo and other Sri Lankan cities, a group of nine suicide bombers struck in coordinated explosions on April 21. They strolled into St. Anthony's Shrine in the capital, St. Sebastian's Church in nearby Negombo and a church to the east of the country as the faithful sat in pews on Easter Sunday.
They also entered crowded restaurants in the Shangri-La and other hotels, as families tucked into breakfast buffets. The explosions that followed killed at least 253 people in total.
I flew into both cities in the aftermath of the massacres.
There was an obvious temptation to dwell on the symmetry of the tragedies.
The gunman in Christchurch had names written down the side of his rifle evoking past crusades by Christians against Muslims. Videos surfaced of the alleged ringleader of the Sri Lankan bombings, a radical Muslim preacher, calling for death to non-believers.
As I crisscrossed Sri Lanka in the back of a sport utility vehicle last week, though, I wondered about investing too much in the similarities, of seeing them as a part of an inevitable string of modern terror.
Instead, I thought about the different paths taken by two Muslim men we profiled – one a victim, one a suspected killer.
In Christchurch, I wrote about Ibrahim Abdelhalim. He moved to New Zealand in 1995. He'd enjoyed a relatively comfortable life in Cairo, but wanted a better future for his children.
Once there, the only job he could find was as a clerk at Work and Income, the government agency for employment services and financial assistance. No matter.
He also served as an imam, or spiritual leader, at a mosque.
When the gunman began shooting into the mosque where Abdelhalim was praying, the 67-year-old grandfather watched, helpless, as bullets pinned down his son on the floor before him. Abdelhalim's wife was shot in the arm. It seemed possible he was about to witness the slaughter of his loved ones.
But after the violence, which his family survived, Abdelhalim threw himself into counseling the relatives of the dead. His heart was broken, but Abdelhalim decided to serve, and to rebuild.
About a month later, I traveled with a colleague from the Singapore bureau, Shri Navaratnam, to the Sri Lankan town of Kattankudy. There we dug into the background of Mohamed Hashim Mohamed Zahran, the alleged leader of the Easter Sunday bombings.
He was expelled from his Islamic studies school for being too radical. Throughout his life, he was shunned by many of the Muslims around him.
Zahran went into hiding in 2017 after a fight in which his men confronted Sufi Muslims with swords. He disappeared again the next year after popping up in another town, where Buddha statues were vandalized.
The variation in that pair of narratives is, to me, worth remembering. During my years of covering war and its aftermath in Iraq and then Afghanistan, I saw communities warped by the shock of repeated violence and the sometimes brutal forces of identity and clan-based power. But even on the bloodiest of days, there were hints of solace.
After our story about Zahran was published last Friday, there was another development.
His father and two brothers were killed during a gun battle when security forces stormed their safe house. They had recorded a video calling for jihad, or holy war.
I suppose you could dwell on that – the fact that others close to him had gone down the same road.
But this is what caught my eye: the cops raided the house based on a tip that armed strangers had moved into the community. Passing that information along could have put the sources at risk. Who had spoken up? Muslims at a local mosque.
(Additional reporting by Shri Navaratnam and Tom Westbrook; Editing by Raju Gopalakrishnan)
Source: OANN
---
---
May 18, 2019; Bethpage, NY, USA; Brooks Koepka during the third round of the PGA Championship golf tournament at Bethpage State Park - Black Course. Mandatory Credit: Brad Penner-USA TODAY Sports
May 19, 2019
By Andrew Both
FARMINGDALE, N.Y. (Reuters) – Bethpage Black turned into a beast on Sunday as a strong and gusty southerly wind whipped across the Long Island course, presenting Brooks Koepka with perhaps the biggest obstacle he needs to overcome in pursuit of victory at the PGA Championship.
After three days of relative calm, players' skills and patience were being tested to the limit on a course that everyone except Koepka struggled to tame in relatively benign conditions over the first 54 holes.
With everyone in the final round having to deal with the difficult conditions, the strong winds raised the likelihood of some big changes on the leaderboard.
Koepka prepared to tee off at 12 under par, a record seven shots clear of fellow Americans Dustin Johnson, Luke List and Harold Varner III and Thailand's Jazz Janewattananond.
A victory would be Koepka's fourth major in less than two years, following the 2017 and 2018 U.S. Opens and the 2018 PGA Championship.
There were some good early scores on Sunday morning before the wind whipped up, with American Beau Hossler shooting a six-birdie, four-bogey two-under-par 68.
But the course average was already three shots over the par of 70, and rising with each passing minute.
Phil Mickelson was among the casualties on Sunday, battling his way to a six-over-par 76.
"It's certainly challenging but there's nothing over the top because the greens are somewhat receptive," he said, referring to the soft putting surfaces.
"I thought it was a great set-up to identify who's playing the best."
Mickelson finished at 12-over 292, but the American was a clear number one with the rowdy fans.
As boisterous as the spectators have been this week, one can only imagine what it will be like when Bethpage hosts the 2024 Ryder Cup, when Mickelson could be captain on the home team.
(Reporting by Andrew Both, editing by Pritha Sarkar)
Source: OANN
FILE PHOTO: Visitors walk past Huawei's booth during Mobile World Congress in Barcelona, Spain, February 27, 2017. REUTERS/Eric Gaillard/File Photo
May 19, 2019
By Angela Moon
NEW YORK (Reuters) – Alphabet Inc's Google has suspended business with Huawei that requires the transfer of hardware and software products except those covered by open source licenses, a source close to the matter told Reuters on Sunday, in a blow to the Chinese technology company that the U.S. government has sought to blacklist around the world.
Huawei Technologies Co Ltd will immediately lose access to updates to the Android operating system, and the next version of its smartphones outside of China will also lose access to popular applications and services including the Google Play Store and Gmail app.
Details of the specific services were still being discussed internally at Google, according to the source. Huawei attorneys are also studying the impact of the U.S. Commerce Department's actions, a Huawei spokesman said on Friday. Huawei was not immediately reachable for further comment.
Representatives of the U.S. Commerce Department did not immediately have comment.
Huawei will continue to have access to the version of the Android operating system available through the open source license that is freely open to anyone who wishes to use it.
But Google will stop providing any technical support and collaboration for Android and Google services to Huawei going forward, the source said.
On Thursday the Trump administration officially added Huawei to a trade blacklist, immediately enacting restrictions that will make it extremely difficult for the technology giant to do business with U.S. companies. [nL2N22S1RG]
(Reporting by Angela Moon; Additional reporting by Georgina Prodhan in London, and David Shepardson and Karen Freifeld in Washington; Editing by Kenneth Li and Daniel Wallis)
Source: OANN
The U.S.-China trade war is not the only weight bearing on farm trade as China has suffered from a swine fever epidemic, forcing it to import more swine and causing worldwide meat prices to rise, The Wall Street Journal reported.
"It will affect all the proteins," according to Tyson Foods Inc. Chief Executive Noel White at a May 15 conference in New York, per the report. "We're already seeing that effect — prices are moving higher."
U.S. farmers and processors produced a record 26.3 billion pounds of meat last year, but an estimated 33% more meat imported by China this year vs. last will stress the market and prices, according to the report.
China stands to lose 200 million hogs to African swine fever, which is harmless to humans but deadly for pigs, which far exceeds the 125 million pigs slaughtered in the U.S. in 2018, according to the Journal.
U.S. fast food restaurants like Wendy's, McDonald's, Burger King, and Dunkin Donuts expect to be impacted, per the report.
Source: NewsMax America
FILE PHOTO: A man walks past fuel containers while vehicle queue to refuel with gasoline in Puerto Cabello, Venezuela May 17, 2019. REUTERS/Manaure Quintero/File Photo
May 19, 2019
By Mariela Nava and Mircely Guanipa
MARACAIBO/PUNTO FIJO (Reuters) – Soldiers oversaw rationing of gasoline at service stations in several parts of Venezuela on Sunday as worsening fuel shortages forced angry drivers to wait for hours to fill their tanks, prompting protests in some areas.
Venezuela, whose economy is reeling from a painful five-year recession amid a prolonged political crisis, saw long lines of vehicles appear at services stations in several regions this week after a shutdown at the OPEC nation's second-largest refinery.
Shortages have been exacerbated by tough U.S. sanctions on Venezuelan state oil firm Petroleos de Venezuela SA (PDVSA) in January, which have slashed crude oil exports and imports of refined fuels.
Washington recognized opposition head Juan Guaido as Venezuela's rightful leader after he invoked the constitution in January to declare an interim presidency, saying President Nicolas Maduro rigged last year's election.
Maduro calls Guaido a U.S. puppet and says Washington wants to control Venezuela's oil reserves, the largest in the world. Dozens of people have been killed in political protests this year.
In the western city of San Cristóbal, close to the Colombian border, National Guard soldiers in anti-riot gear limited gasoline sales to 40 liters (10.6 gallons) per vehicle, witnesses said – roughly equivalent to a full tank on a compact vehicle.
Angry residents blocked streets with metal barriers, rubbish and branches in some parts of the city. At some gasoline stations, people said they had been waiting days for fuel.
"How can a country function like this?" asked Antonio Tamariz, 58, who said he had waited for days for fuel to drive his truck back to his farm. "No one has explained why there are so many lines for gasoline. I think the government is losing control of this."
Venezuela's Information Ministry – which handles media enquiries for the government – did not respond to requests for comment.
Oil Minister Manuel Quevedo said on Sunday his country's oil industry was under siege from the U.S. government, causing supply problems.
In the southeastern industrial hub of Puerto Ordaz and the northwestern city of Punto Fijo, close to Venezuela's largest refining complex, soldiers were ordered to deliver 40 and 30 liters respectively, according to a dozen witnesses.
In the western oil hub of Maracaibo, where power cuts and fuel shortages have been severe in recent months, National Guard soldiers allowed drivers only 20 liters (5.3 gallons) of fuel, witnesses said.
"They have taken control of the pumps," said Rocio Huerta, a manager of a service station in Maracaibo. "Every five hours there are inspections by the Military Intelligence Division to measure how much gasoline is left."
Victor Chourio, a 58-year-old taxi driver, said he had arrived at the gasoline station early on Saturday and waited for 12 hours without getting fuel.
"At two o'clock in the afternoon a soldier guard said that only 20 liters per vehicle … but at seven o'clock the gasoline ran out," Chourio told Reuters.
Venezuela's 310,000 bpd Cardon oil refinery – which had been operating well below capacity – halted operations on Wednesday because of damage at some of its units, two workers at the PDVSA-operated complex said. That left only two refineries in operation in Venezuela.
Internal PDVSA documents and Refinitiv Eikon data indicate that Venezuela had not imported a gasoline cargo since March 31.
The fuel shortages come on top of rolling powercuts in many parts of Venezuela as the government attempts to rotate electricity supplies to avoid a repeat of March's week-long national blackout.
In Caracas, home to roughly a fifth of Venezuela's more than 30 million people, there were few signs of widespread gasoline shortages as Maduro has prioritized services to the capital.
PDVSA said on its Twitter account on Friday that the government and the company would "ensure the supply and distribution of fuel throughout the national territory."
PDVSA did not respond to a request for more information.
In some cities, security forces set up special gasoline pumps to deliver fuel for ambulances, medical personnel and official vehicles, a measure that aroused criticism among people who remained in rows often stretching for several kilometers.
Some drivers complained that rationing of fuel meant they would be forced to wait in line for hours once again within just a few days.
"This is not enough at all, between going to work and taking my children to school. It will run out in two days," said Eduardo Pereira, a 47-year-old teacher in Puerto Ordaz, who was only allowed to buy 40 liters of fuel.
(Reporting by Mariela Navas in Maracaibo and Mircely Guanipa in Punto Fijo; Additional reporting by María Ramírez in Puerto Ordaz, Anggy Polanco in San Cristóbal, Keren Torres in Barquisimeto and Tibisay Romero in Valencia; Writing by Daniel Flynn and Corina Pons; Editing by Lisa Shumaker)
Source: OANN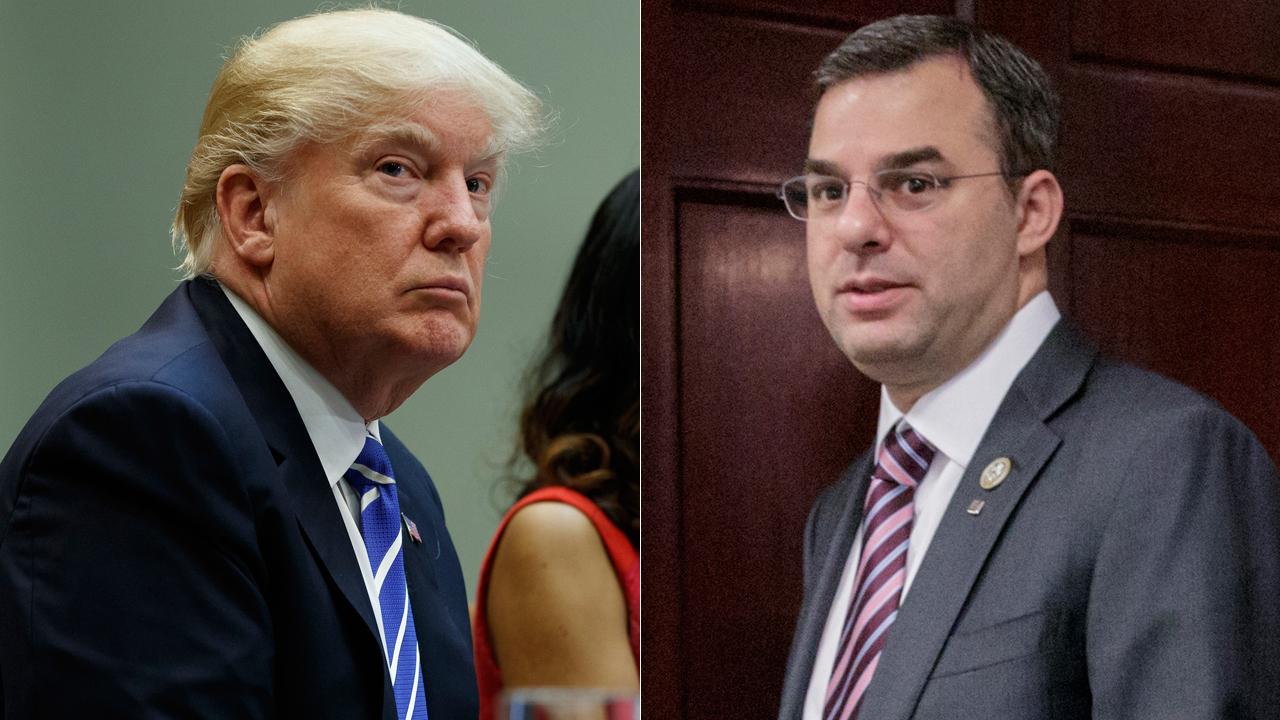 Talk of impeaching President Trump has not waned since the release of the Mueller report last month, with lawmakers on both sides of the aisle weighing in on the issue.
Rep. Justin Amash, R-Mich., became the first Republican to publicly accuse Trump of engaging in "impeachable conduct" stemming from Special Counsel Robert Mueller's lengthy investigation into Russian meddling in the 2016 presidential election – earning the little-known congressman praise from Democrats, derision from Republican leadership in the House, and a mixed response from other lawmakers.
House Intelligence Committee Chairman Adam Schiff, D-Calif., praised Amash during an interview on CBS' "Face The Nation" on Sunday and said that the Michigan congressman "showed more courage than any other Republican in the House or the Senate."
WILLIAM BARR DEFENDS PRESIDENT TRUMP'S COMMENTS ON MUELLER INVESTIGATION
Schiff, a fierce critic of Trump and his administration's policies, said that there are many other members of Congress who feel the "administration is acting in a lawless fashion."
"If we conclude that there is no other way to do our jobs," Schiff said on the idea of impeachment. "Then we may get there."
Schiff's comments run contrary to that of House Speaker Nancy Pelosi, D-Calif., who has mostly voiced her opposition to the idea of introducing articles of impeachment against Trump. The House Speaker, however, did say last week that Democrats could use these powers in creative ways to get what they want.
Pelosi said that even if they don't actually impeach Trump, House committees could use impeachment as an excuse to subpoena documents that they otherwise might not be able to get. The Trump administration has argued that congressional demands for documents have not had a required legislative purpose, and Pelosi believes this would work around that requirement.
"One of the purposes that the Constitution spells out for investigation is impeachment," Pelosi said during her weekly news conference. "And so you can say, and the courts would respect if you said, we need this information to carry out our oversight responsibilities, and among them is impeachment. It doesn't mean you're going on an impeachment path, but it means if you had that information, you might."
ROMNEY: MUELLER REPORT DID NOT SHOW OBSTRUCTION, 'I DON'T THINK IMPEACHMENT IS THE RIGHT WAY TO GO'
One member of Congress who was not a fan of Amash's comments on impeachment was House Minority Leader Kevin McCarthy, R-Calif., who claimed that his colleague was just seeking attention when he made his comment.
"This is exactly what he wants, he wants to have attention," McCarthy said on "Sunday Morning Futures." "You've got to understand Justin Amash. He's been in Congress quite some time. I think he's asked one question in all the committees that he's been in. He votes more with Nancy Pelosi than he ever votes with me. It's a question whether he's even in our Republican conference as a whole."
Sen. Mitt Romney, R-Utah, offered a more nuanced appraisal of Amash's comment, saying on Sunday that he thinks the congressman was "courageous" for speaking against party line, but adding that he doesn't agree with Amash's argument.
CLICK HERE TO GET THE FOX NEWS APP
"I respect him. I think it's a courageous statement," the Utah Republican continued. "But I believe that to make a case for obstruction of justice, you just don't have the elements that are evidenced in this document."
Amash tweeted: "Contrary to [Attorney General William] Barr's portrayal, Mueller's report reveals that President Trump engaged in specific actions and a pattern of behavior that meet the threshold for impeachment," Amash tweeted, referencing Attorney General William Barr.
Amash stated earlier this year that he was considering running against Trump in 2020 as a third-party candidate.
Fox News' Ronn Blitzer contributed to this report.
Source: Fox News Politics
U.S. Rep. Justin Amash (R-MI) speaks at the Liberty Political Action Conference (LPAC) in Chantilly, Virginia September 19, 2013. REUTERS/Kevin Lamarque
May 19, 2019
By David Morgan
WASHINGTON (Reuters) – Donald Trump lashed out on Sunday at the first Republican congressman to call the U.S. president's behavior impeachable, while Democrats warned Trump's stonewalling of congressional probes is strengthening the case for an impeachment inquiry.
Trump called Republican Representative Justin Amash "a total lightweight" and "a loser" on Twitter, a day after the Michigan conservative said the Mueller report showed that the Republican president "engaged in specific actions and a pattern of behavior that meet the threshold for impeachment."
Amash's criticism made calls in the U.S. Congress for Trump's impeachment bipartisan, though just barely, with most Republicans still standing by the president at a time of economic growth, turbulent markets and global trade tensions.
Saying most lawmakers have not read it, Amash cited Special Counsel Robert Mueller's 448-page report on Russian meddling in Trump's favor in the 2016 U.S. election. On Twitter on Saturday, Amash said the report showed Trump had obstructed justice and added, "President Trump has engaged in impeachable conduct."
A frequent Trump critic, Amash is a part of the House Freedom Caucus, a conservative faction. He has also signaled he would consider running as a libertarian against Trump in 2020.
Counter-punching in his usual style, Trump tweeted: "Never a fan of @justinamash, a total lightweight who opposes me and some of our great Republican ideas and policies just for the sake of getting his name out there through controversy … Justin is a loser who sadly plays right into our opponents hands!"
Trump will have a chance to make his case to supporters on Monday at a rally planned for Montoursville, Pa.
Amash's comments echoed the conclusions of many Democrats. House of Representatives Speaker Nancy Pelosi has said that Trump was moving closer to impeachment with his stonewalling of numerous congressional investigations of him and his presidency.
Still, Democrats are divided about impeachment. With 2020 election campaigns heating up, Pelosi said impeachment proceedings would be "divisive" for the country.
IMPEACHMENT PROCESS
No U.S. president has ever been removed from office as a direct result of the U.S. Constitution's impeachment process. The House of Representatives has impeached two presidents. Both were acquitted by the Senate.
The Mueller report, now at the center of an escalating oversight battle between Trump and House Democrats, detailed extensive contacts between Trump's 2016 campaign and Russia, but did not find that there was a conspiracy with Moscow. The report also described actions Trump took to try to impede Mueller's investigation, but made no formal finding on the question of obstruction, leaving the matter to Congress.
Amash also said on Twitter that Attorney General William Barr, a Trump appointee, "deliberately misrepresented" Mueller's report when he oversaw the roll-out of a redacted version.
There were no signs on Sunday of other Republicans following Amash's lead. Another Trump critic, Republican Senator Mitt Romney, said on Sunday that Amash made "a courageous statement," yet also told CNN's "State of the Union" program that he did not believe Mueller's findings supported impeachment.
But Pramila Jayapal, a Democratic member of the House Judiciary Committee, which has jurisdiction over impeachment, called Amash's statement "a watershed moment."
"Justin Amash coming on board means there is now bipartisan support for really understanding the seriousness of what is in the Mueller report," she said.
House Intelligence Committee Chairman Adam Schiff, one of six committee chairs leading probes of Trump, said the case for impeachment is being strengthened by White House stonewalling.
"If the only way that we can do our oversight is through an impeachment proceeding, then maybe we have to go down that road," Schiff told CBS' "Face the Nation" program.
"But I think it'll be important to show the American people, this was a decision made reluctantly, this was a decision forced upon us, rather than something we were eager to embrace" Schiff said.
(Reporting by David Morgan; Editing by Kevin Drawbaugh and Bill Berkrot)
Source: OANN
Sen. Kirsten Gillibrand, D-N.Y., said Sunday she'd eliminate the detention system for immigrants awaiting asylum claims in court, saying if released with a court date and a lawyer, they'd show up.
In an interview on CBS News' "Face The Nation," Gillibrand, who's among a large field of Democratic candidates for president, said the detained immigrants "don't need to be incarcerated."
"As president of the United States, I wouldn't use the dentition system at all," she said adding: They can — if they're given a lawyer and given a process, they will follow it. They can go into the community in the way we used to handle these cases under the Department of Justice."
She also blasted President Donald Trump for having ""started a war on American women."
"This is nothing short of an all-out assault on women's reproductive freedom," she said of a new wave of anti-abortion bills being passed in the South and Midwest.
Related Stories:
Source: NewsMax Politics
---
Follow #MagaFirstNews via Social Media